Game and Mod info: [Sept 16 2019]
Video Game
Video game animations- snapshots and videos as references.
Conan exiles:
A mod: extreme exiles – features a guillotine – as a placeable object; not as straightforward to use as the skyrim chopping block animation; for single player. [in two player, video can be likely made close up; or until thralls are placeable on guillotine, if/when the mod gets updated.
Single Player Mode:
The only current way to interact with the guillotine and produce an animation, ( in single player):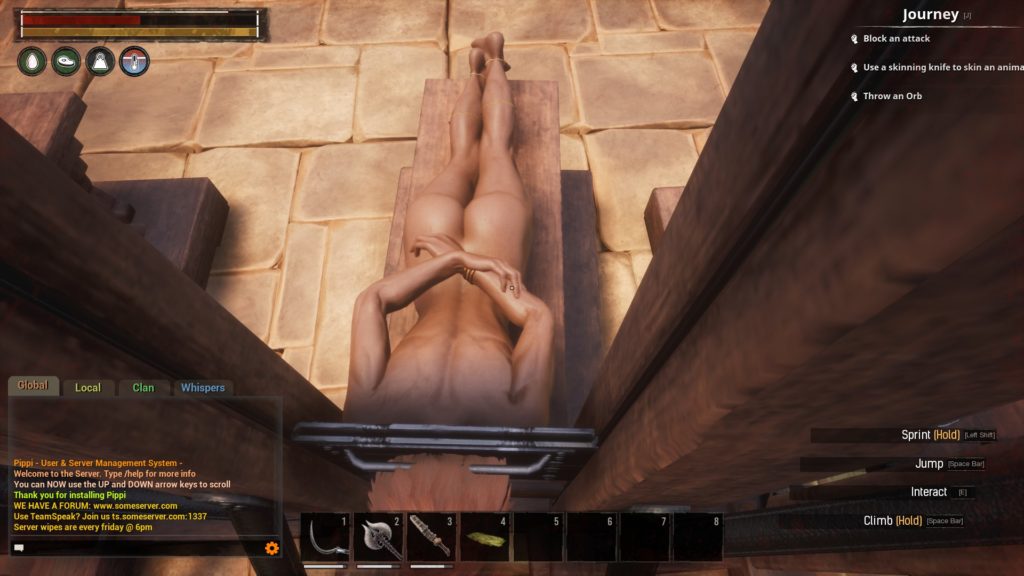 As 1st person, you "E" interactwith the chain , that raises the blade ( to set it going down). Then 'E' to interact with the lunette area; which places your character – for a split second, into the guillotine. The beheading animation follows, from a distance, the in-game camera automatically pans around clockwise from the position you last interacted.
In order to see the head fall from the front, interact from the chain side – in the front, slightly to the right. There are some useful references. The camera pulls out to a distance when the character dies, and it takes 6 seconds to respawn. Admin commands can be used to edit the characters appearance;
through the mod Pippi – all mods available through Steam.
If you set a respawn point near the guillotine, you can repeat the animation about once every minute or so. After several times through, sometimes the animation glitches, and the head doesn't come off; it takes about 5 minutes to exit main menu, and then start the game again ( which disconnects from the server, and resets it)
To make snapshots uninteruppted from 'time of day' changes: set Funcom original panel: noon, freeze sky, – and from the Pippi admin, set your chraracter to have inflated strength, survival, ect, so that you don't have to keep drinking water and eating food (game play dynamics like Ark, and Atlas) while setting up the animation.
It took 2 hours for me to find the mod, and re-install Conan exiles (which I bought during Early Access – Summer Steam sale over2 years ago for $19) on my SSD to try it. There was a mod by Savage Steel, that had a placeable guillotine, but I'm not aware if it had animation/ interaction capability. Since, exiles extreme worked, I didn't test the other one yet.
At first, I wasn't sure if or how to make it work in single player. There are no meaningful specific instructions. I would "E" interact with it, and my female character would lay on the bascule; but that's it. There was no way to place thralls' or npc's into it; so, mostly background 'flavor', so it seemed.
[ I don't play 2 player, pvp, or co-op much, it's fun, beautiful lavish graphics, and muscular rugged style – but you can literally spend weeks playing that game, and never have enough; too time consuming for me, I prefer to create than play; except if I am totally exhausted from construction work-type hard manual labor ]
Before quitting, I placed a bunch of guillotines on the board, for reference snapshots, and then tried walking around it, and interacting, noticing I could raise the blade – and sometimes, depending on where my character was standing, would kill, or decapitate the character. By accident, putting the character in and out of the guillotine ( with no conceivable way to activate it, once in ), I had my character get back in, after the blade was coming down, then saw the animation, and figured out how to set it up.
I spent about 3 hours setting up the scene, using variations of character ( edit: faces, physique, costume ect) , and then another 3 or more. ( including screenshots). And sorting the videos that captured the scene, and the most useful screenshots for using as ref to compose a sequence.
Over 11 hours using Conan Exiles ( which feels like a long time; as much as I appreciate the graphics of today's 3-d games; playing then feels like waiting in a traffic light; and limited: prone to glitches, and unexpected frustrations )
Pippi mod:
3 hours to figure out how to use Pippi, to cheat, and build structures, and spawn every item in the game ( npcs, weapons, crafting station, for the extreme exiles guillotine) .
In-game video recorder. Bandicam:
Practiced with the bandicam screen recorder; basic scenes, then figured out if the guillotine was workable, or just a prop. It appeared just a prop ( as I previously stated). I found no instructions anywhere.
Single Player ( discovery process)-
I tried interacting with it – could see how to activate the blade while in the guillotine. So it seemed like a simple one pose prop. But a few times, I had kept clicking "E", getting in and out, and in and out, that I had the blade coming down, while I was standing near it. It beheaded the character outside of the guillotine ( like a glitch, it seemed). This happen 3 more times. Finally, without realizing at first what happened – I had clicked the blade coming down, and put the character back in; at the last second, and it beheaded the character in the guillotine.
Single Player – distance death scene cinematics – imply that in co-op, One player would view the animation close up – able to control the camera.
The death scene ( game over) camera pans, dramatic music plays. I respawned, noticing, the previous body stayed in the guillotine, and was now a headless corpse, with detail at both surface points (head and torso). The head had fallen into the basket area, also with gore detail; and the corpse didn't disappear for more than 10 minutes or so.
I panned around and made use of the skin, posed, and gore effect, in the guillotine prop of the Conan Exiles: Extreme Exiles Mod.
Eventually, when I finish up current projects, and physical chores – I may revisit, when I have time, this game, in co-op two player.