6th Scale Diorama Workshop ( Mar 29 – April 1)
Intro
There are so many potential scenes, detail options: and it can take 4 hours just to photo/video 1 scene. I thought maybe a couple days of all day photoshoots, and I would capture all the basic images of value for photoreference. But I discovered so many composition ideas, that after two all days sets, I realized a sensible approach would be to do a photo shoot, every morning for the first 4 hours of the day. Getting more efficient each time, and more proficient with the camera; and getting ideas for setting up unique scenes, that would make great lurid pre-code horror paintings, covers and sequences.
So, rather than wait till I spend weeks, improving the photos, and diorama work – because it takes significant time and energy; I can share some images (6th Scale Workshop Journal: link ), that are most worthy for reference study ( instead of a 6th scale model photo set with hundreds of photos*).
*Hundreds, thousands of photos, quickly become tedious, and unremarkable. A few stand out, looking super realistic, and ideally composed.
So subscribers aren't totally in the dark about the process, while I improve in each daily shoot; I think it would be best, to share only the photos that are of remarkable quality; ie, approaching professional advertisement quality*.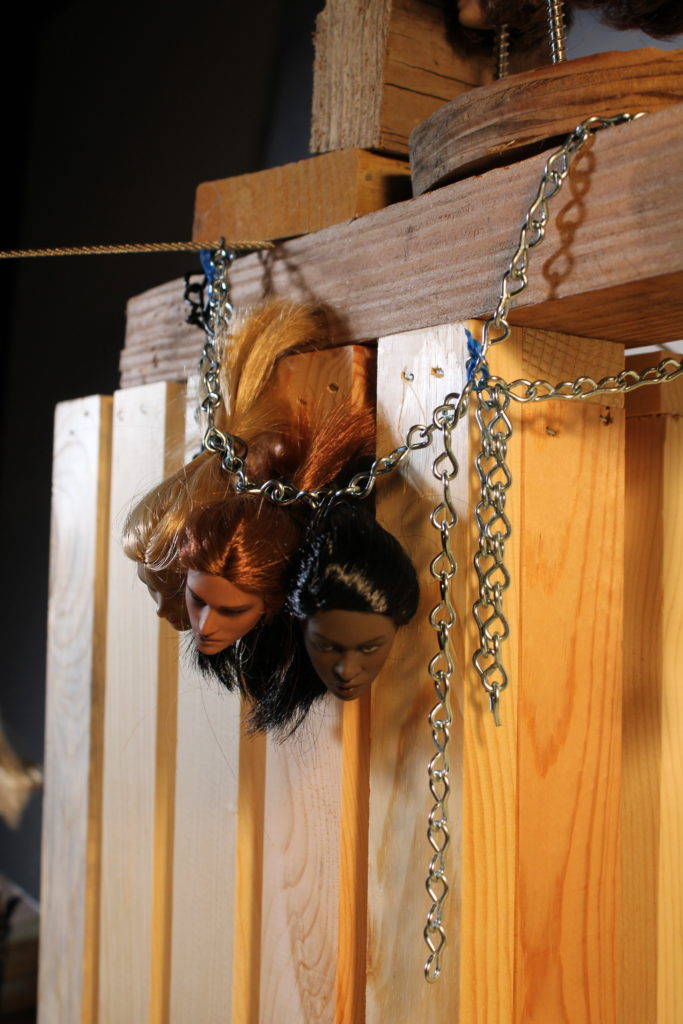 * – similar to the ones on the packaging; a) in focus, b) no extraneous background ( ie my house) c) an image I would benefit from studying ( whether clothes, foreshortening, face, overall aesthetics, concept )
Been daily setting up 10 models, and photographing ( Rebel Ti 7: 24 MP). After two daylong sessions. I have found a sustainable frequency, to persevere, and get the maximum use out of 6th scale models – for improving my panels, angles, perspectives, and anatomy ( body proportion, mechanics*).
*Obviously, not perfect – since 6th scale models, even TB League, & Jiao – which are fully poseable and articulating at every joint; can't replace natural anatomy. However, in general, the average artist, has certain ways of drawing, that, using a 6th scale model, can aid in maintaining proportion of pelvis, and bust, when in poses, where legs are bent, in relation to torso; and foreshortening ( the perspective from looking down at a standing figure, or tilted, three fourths front view. ).
Especially, the foreshortening of the head sculpts.
1st time Using 6th Scale models for Drawing References
I never used 6th scale models for reference before. When I read that top comic book artists used them, in addition to live models, I realized, it would be a proactive step, to continue to educate, and approach this as a learning experience*.
* (Not letting the awkwardness, or macho attitude, inhibit, using, essentially, dolls, to improve drawing panels; by having a 3-d item, that can be posed, photographed, and made to match panels; rather, than search for existing photos/illustrations, and arrange then to work as sequential panels.)
Procedure:
It is best to have the models dressed, posed, and all the scene items prepared, so that when setting up, no unnecessary tasks, delay taking photos, as the natural light, enters the diorama table area, for a brief period, of direct sunlight, at an angle through the porch.
Daily Photoshoot windows
From 8:00am – 9:35am; Morning light creates strong shadows, and max brightness and contrast. Then from 11:25 am on , ambient light is good ( Improved with two lamps ) – all the photos look about the same from noon through 5pm, as the daylight declines. The photos at night also look good, after 7pm to about 9pm, with two lamps. After that, night bugs, humidity, moisture, are detrimental.
To best do this, I ideally sleep at 10pm, rise at 6am. So far, this is having a great impact on my fitness ( standing, holding the camera, squatting, one knee, arms out, for 3- 16 hours ( in the first two days; and now 4 daily), which is improving the subsequent drawings already.*
*Even before studying them formally from reference, just seeing them through the viewfinder, in the diorama for hours daily. The goal with the model studies is not as an end all be all, but to add to the repertoire, that which are unique benefits of 6th scale models – and not be lacking, when compared to other professional comic book artists, in that regard; should I ever work in a studio for a publisher, and be on a deadline ( having this training, can help panel composition ).
( I may post some images, as I practice setting setting up diorama scenes – Day 3, and I am learning better ways to set up: trying wide angle lens: arrangement of table angle to natural light: sunrise. Time of Day, lamps, – models; and mention progress * goal is to have unique reference material ( ie. different from poser, and 2-d illustrations) )