Thurs Oct 24 2019
Fan-Art
Apocrypha
Original Character – Zaydimar.
In a Pre Code Horror Scene-
Comp redraw, Pad redraw, templates, bristol 14 x 17″ – First Look at Original Character "Zaydimar" in an executioner's costume.
Synopsis of Zaydimar's Story-Arc:
Zaydimar is taken out of the Gelfang concentration camp, at the door step of Slaughter Room 95, and taken to Raljun to be a 'singer' – which is to be part of the harem. The sultan is corrupted by Suathra, to marry a girl each day, and – if she fails to present him with a riddle that he cannot answer, to execute the bride in the morning.
Suathra is vain, and wants to be rid of the youthful harem. Zaydimar, escapes the harem, by disguising herself as an arena combatant, and manages to survive battle after battle, against the weaker female combatants – largely due to her upbringing herding large livestock on a giant ranch.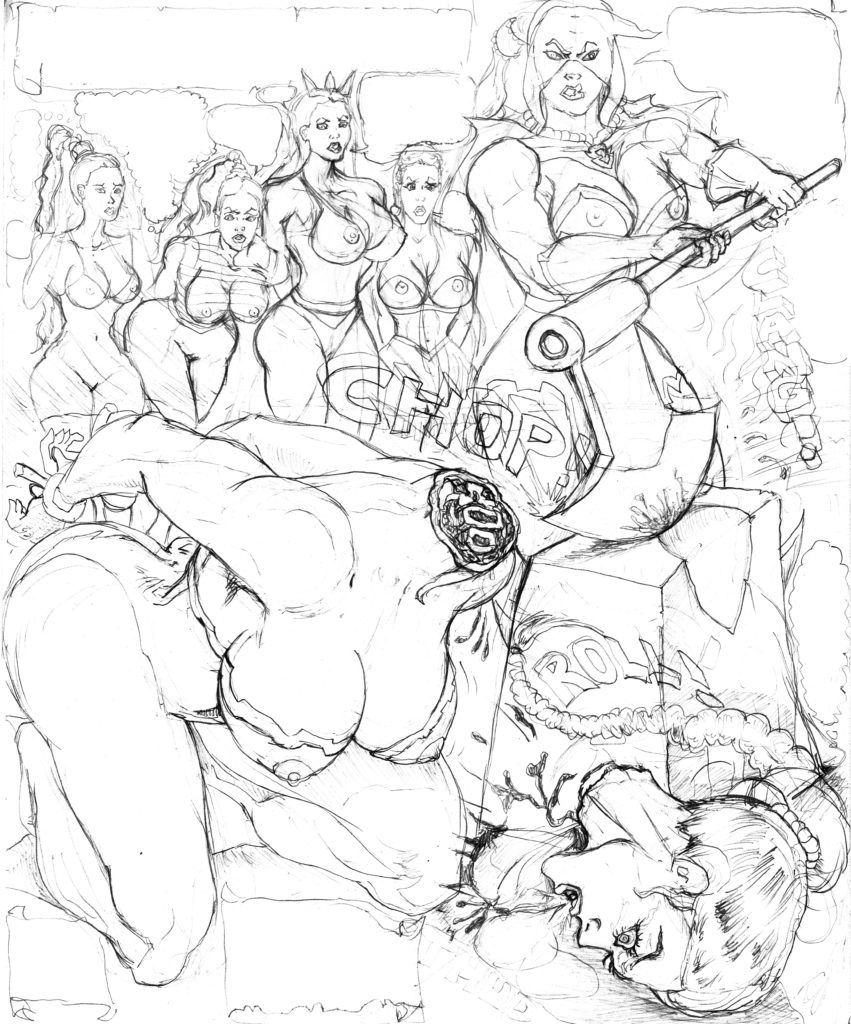 She is promoted, eventually to champion, and in retirement, her duties are to be the Raljun executioner. Suathra uses her as a tool to eradicate her opponents, and Zaydimar wearies of her role. She seeks a way to escape Raljun altogether. Finally, she and some confidante fighters, plan an escape through the Raljun catacombs, and discover a room of artifacts. One of which, enables her and the group, to escape the pursuing royal guards, and teleport to her homeland- the artifact is called a witchfynder.
The witchfynder, presents aethyride currents, and enables those encapsulated by the witchfynder device, to travel by aethyride, and seemingly appear in the vicinity of an area visualized by the bearer. Rather than teleporting per se, the encapsulated are phase shifted, and fixed in location, relative to the aethryvast.
When the location intersects the encapsulated, the phase is shifted back, and the travelers are un-fixed from space, and time. During travel, they phase-shift, becoming time-lost – and ride the space wind, unfettered by gravity or centrifugal force. Like a divining rod, detects water behind stones, the witchfynder, connects to spacewind, which is in itself not moving, so much as the rotation of the sphere they are attached to it. The spacewind is a misnomer for the matrix of the aethyrvast, the witchfynder brings the bearer to locations envisioned, until the berast stone is depleted. The bearer can sense the energy remaining, and it recharges slowly over time.
Zaydimar forms an alliance, with others disenfranchised by the land acquisition of the corrupt Blasphemer Priesthood, and goes on a quest to find the enigmatic Gelfang concentration camp – whose location is a secret, she will not uncover, until she explores the deepest depths of the ancient Erydesis corridors, and discovers Gelfang 's origin, is from a portal on the other side of the Bn'Thosf Oram en.
Studio
Inkings, mech pencil detail, Comp Redraw, Digital ( color, prototemplates)