Words from the Creator
Thurs Jan 23, 2020
Updates
My goal is to have art to represent the content of the scripts as I send them to voice over actress throughout the year. And comics to layout the scenes – to test in renpy, and eventually click team fusion ( as a 2-d rpg game, with action, and animation cinematics).
I see the value of having completed ( finished: inked, colored) character, background, supporting cast, objects, titles – while trying to describe my scripts to actors and actresses.
Art can be embellished, and replaced with better quality art later – getting the IP produced, is a major goal, and current priority.
When the IP is defined with fully inked (simple), and colored (simple) art, and scripts in final draft, recorded audio for all the stories I have written since 2014 ( that are Lurid Pre-Code horror) ; it will save me alot of time, not having to keep referring to light scans of sketches, and hand written scripts that are in stacks of over 40 composition books.
It will be more efficient, to get the IP in an Alpha version published – look better to viewers, who have been patient with the rough sketches. And then very simple ( without having to sift through 14 drawing pads, ect) to embellish each panel, and individual comics, covers – make paintings ect.
I want to do some advanced, painting, and challenging fine art – based on this IP; the sooner I get the IP content defined, in an Alpha version published; the sooner I can do fine art based on it.
Weekly Packs –
Voice Over Scripting and Actors & Actresses
1,000 Word Script Narrative: Historical Fiction: French Revolution
from 3rd Actress (1,000 word Gig *)
* In process of editing ** [ trimming empty space ] in Audacity. Posted 1st section***: 12:39 pm Jan 27 2020 *** And entire Dialogue.
Encouraging Correspondence from 4th Voice Actress:
I sent out a 200 word gig, the ETA is Jan 24*.
*ETA is updated to approx 2 weeks ( due to a serious cold affecting her voice). She's really eager to play the lead role. Which is reassuring that my message is clear, and inspiring others; including women who have read the script, and want to participate as voice over actress.
Here are links to:
Voice Actresses Correspondence:
In the Main Studio: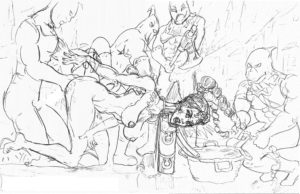 Reference Studies versus New Comics
Been redrawing some pieces from the Apocrypha, finally. The experience, creating 6 mainstream pages for submission ( last year) has paid off, in better looking work ( when I create layouts, and freehand concepts).
Honoring Legends
Story Telling
Experiencing collaborating with a team of writer's ( determined to get picked up by a publisher), has raised the bar for my script aspirations, understanding of how to effectively communicate with collaborators ( such as voice actors/ actresses)
Adaptations
As Rob Marzullo said ( paraphrase): " Artist's draw what they see. The key way to get better at drawing is to draw things you can see. Eventually, you can draw them with out using references, but any artist knows, and has used references to develop their skill at some time. "
Gratitude
I sincerely appreciate your contributions from the past year, And wish you a Happy and fulfilling New Year!
Thanks so much!