Words from the Creator
Thurs 7 2019
Updates
Subscribers are accustomed to seeing certain quantities, reflected in thoughtfully crafted gallery ,atelier, vintage, posts. The Weekly packs are designed to spread 4 posts throughout each month. To enable studio time, for creating the best content I can conceive.
The goal is quality: As new aspects wax, some previous ones wan. This is change. There are stages, and progress made toward new goals for stunning artwork. Many aspects can be developed.
Honoring Legends
Red Sonja
After reading about how DC tried to make a character inspired directly by Red Sonja ( surprisingly – to me – "Starfire" of the new Teen Titans) . Starfire's hair was made super long, and her appearance, and costume color scheme never reminded me of Red Sonja. Her character was an alien, and her abilities included flying; and she was on a team with 'teen' super heroes. So many elements were different from Red Sonja, that I never would have guessed that the character derived from DC staff deliberately setting out to make their own 'Red Sonja'.
I remember, Starfire also had a similar appeal. The skimpy costume, the voluptuousness, and hair. As an artist trying to create characters that were appealing to me, it was empowering to identify some of the elements. And to see that they weren't limited to a brand. If a woman's proportions are such, and revealed whether through line art ( clothing over, or skimpy), or bare flesh – skin colored or otherwise – a Red Sonja type character can be created.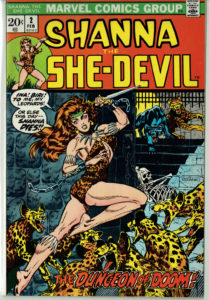 Gratitude
Doing this project independently, I am spared the frustration of having ideas which a boss may not comprehend, or feel is too effortful, and prevents my vision from its positive potential.
The current months, I have put forth efforts to establish a subscribe star page, get voice actresses to read scripts for visual novel content, and share some artwork from masters of this genre. This all contributes to upcoming quality work, as I strive to work toward a product that is the highest in every aspect I can visually render.
Thanks for all your contributions that make this endeavor so rewarding – and your kind patronage!