Monthly Archive of 'Coming Soon' .
LuridMax Season3 main Menu; Serpyntera; Cygni Gremian; LM3 Live Feed.
2022 January
Jan 16 4:30 am – Word: will try to post on my next day off ( after drawing some) – unusually busy: combo: 1) new job 2) season for rare fruit tree harvest ( once a year, for one in particular ). Though I have more time in the studio again, ( with new job settling down, – getting my desired schedule, without as much over time per week; the fruit harvesting chores, which last several weeks, every season, this time of year have been going simultaneously, without regard for the politics of my new employ.
What I did accomplish: stored 1/4 of the oldest, longstanding vintage, into proper( 4 mil mylar, with microchamber paper, and life x tenders ( copper sheets) [ old , and famous comics, from the 1940's: photographed the delicate , but still lucid pages inside; great artwork, and rendered character features, for archetypes, that are in my project designs). When all the rest are stored, that room, will be where I make audio revisions.
Also, accumulating, daily physique studies ( npc applications); really great to look at the variations. [ while jotting down aphoristic dialogue, in a nietzschean manner]. I coordinated for F and L to hold 3 original pieces for me, and look forward to studio time, to create reference images of my characters.
Came up with some efficient systems, for preparing meals for work, clothes prepared, tools, ect,.. strategies to get the most out of the social opportunities ( their are some martial artists, water activity, video game and gun aficionados, who I am befriending, and participating with extra curricularly that can enhance esoteric aspects of the project ).
Jan 11 3:03 am Word: my schedule at my new job is now set to be consistent. Just the past week, I was requested to help ( extra ), but still got studio art work accomplished: rather than spend hours scanning the 31 page composition storyboard I created several days ago; I'd like to continue in the process till I develop quality illustrations. I have plenty to post and update – going to see how much I can sketch this morning, and on my next day off, attempt to post new art. [ eventually, with my current schedule, I have concurrent days off, consistently, and should be able to post once a week. Only now, I can afford to hire a colorist, and commission illustrations from top artists; the way pumpmonger ( on Deviant art : now Pumpmonger1 ) did for his Red character. [ I have alot for the exodus sites also: at my next opportunity to scan and post: btw, fastner and larson agreed, finally to do a commission for me ( without gore; but in their authentic style; ) which means alot to me. Over the next season, there are artists I have in mind ( which I have communicated to in the past year, willing to do 'lurid' illustrations, ( with pre-code horror gore). At my next available convenience, I will update more precise when to expect a post. Thanks for your continued interest, and support over the years!
Dec 31 – 5:45pm – Word: Without the activities of the holidays, ( this past month, and the seasonal event, preparations ect- the month before that) I expect to have as much time to sketch and post as before. Happy New Year! Also, I got some exciting new original art ( over 30 pieces) to study, and interpret ( posting any lurid max re-imaginings here), and a commission agreed upon by the artists who created the images in the header of this Coming Soon feed. They agreed to do a commission; and I ordered 3 pieces from them that are useful for reference.
Dec 27 – 5:41pm Updated Weekly Nov 2nd ( 2021).
5:30pm ( updated Exodus word)
Dec 18 10:49pm updated Exodus, ( word)
10:40pm – So, after next Friday, the new job ( seasonal event) is over. A good time to check back for new art ( will be after the first week past Christmas).
Till then, I may take time to post from the aforementioned Apocrypha.
I have been drawing all along; and when the seasonal event is over; there will be a simple part time hours scheduled for me; giving me as much time as I had before. [ with the current funds I relatively rapidly accrued, while gaining material ( interactions with colleagues ect) both written vignettes, and sketches of various physique types ( that I can later incorporate into the new pieces: I am looking forward to create; and have commissioned by other artists)- I also have over 34 pieces of Original Art from famous artists, ranging from Legends of the past 3 decades, and recent pros; enroute, which I recently acquired ( some at massive discount ( similar to when Kevin of Amryl Entertainment was selling hundreds of pieces of Bud Root's famous Heroine, for 50% off).
Dec 15 12:51pm – my next day off is tomorrow. Updated Weekly Nov 2nd ( 2021).
Thurs Dec 9 10:50 am Updated Exodus. My plan is to draw as much as I can before I go to a shift at my new job. Then at any time, I am too tight ( from heavy lifting, or schedule limited time), I can add more images ( I created over 6 specifically lurid images last night, and yesterday morning. Plenty to post for the next couple weeks. And I used the inking table, and light box. Working toward having some simple inked variations, of drawings – and some color guides, to then have colorist, apply; later. Coming probably in Jan. Thanks for checking in with my art progress. Have a wonderful holiday!. Stay safe. Thanks for your kind and generous patronage over the years, that kept this endeavor so rewarding.
10:36 am I connected a two piece commission drawing, ( long over due), and emailed it as an attachment to the commissioner. Sorry, but, I have expenses, and it takes time to work a separate physical job. I will probably not take commission requests again, until I have no other tasks going on.
It's nice to have a commission that may net up to $1,300. But the back and forth, approving sketches, and waiting for precise request details of costume, make the exchange, $100 a month, for 5 drawings that take up more than 12 hours of my time. On a subject that is outside my interest. In one day at my new job, I can make double that. With regular funds. The commissions are a one time thing, and drag on, and the customer is rarely pleased, and keeps demanding more,.. and takes up even more time, from the art I want to work on.
For now, commissions will probably remain closed for a year. Members who were in good standing, prior to Oct, ( and my big studio move) will retain access to the additional galleries: and I will update them with content as fits the theme I have defined, as I have time ( on days off, to post). I still have the same amount of art output, when my schedule is normal ( it was just a seasonal overtime at the outset : for Nov – Dec, up to Jan). In one , rested day off, I created as many images as I normally do a week. Which is encouraging, and a relief; to see that this will likely balance, out as art studio + augmented by part time income, to fully fund my project.
10:15 am – [ I don't believe I have posted this one as scanned from the original. This image, I had a photocopied version ( scale 75 %, which I colored partially with marker, over 24 years ago), which I posted. But this has far higher resolution, and is the only scan of the original I have posted to date; I recently found it, in a stack of over one hundred pieces, while arranging heavy furniture in my studio;
Weds Dec 8 – 7:03 pm I just sketched a 14 x 17 " Bristol commission draft ( the 3rd in a series of concepts. ( I updated Exodus with more detail).
Tues Dec 7 11:02pm I scanned a handful of images. ( which I can edit, and begin posting an image tomorrow). Replied to an email of fan fiction author, and long time supporter, and enthusiastic fan of this art work.
12:16pm I expect to post more in the coming weeks. Updated words at Exodus.
My plan for today, ( I have today and tomorrow off- meaning I can work in the studio 2 days uninterrupted) is to do creative activities, ( create content ) , and then in the last hours of the evening ( or tomorrow) to start scanning and posting. I will describe in more detail, on the exodus page.
Fri Dec 3, 10:25pm – I set up inking station ( just had to move stacks of papers, boxes, and arrange them, for about 3 hours).
Thurs Dec 2, 7:17pm –
– 11:23 am – 11:37am updated Weekly Nov 2nd ( 2021). Updated Exodus.
Tues Nov 30 – 8:30 pm – I had some interesting experiences the day before – I managed to reply to some emails;
The day after tomorrow I have 2 days off- then one day one- and then 2 days off. ( the two days off, give me sufficient time to create, write, and also post. I apologize for the interruptions in creative posts: I am still drawing, and writing, – it's overtime, holiday season, ( black fri parts ordered for new pc). Will be able to post and scan new work – and create more on the aforementioned two sets of 2 days off. ( After Dec 17, my schedule will be reduced: at my request; giving me the normal amount of time to create and post. Thanks for your patience!
Sun nov 28 – Stayed in longer, – great live observation sketches ( overtime)- can try to post something tomorrow evening – or Nov 30.
Sat Nov 27 – 10:28 pm I have a shorter day tomorrow, and should be able to post something. ( and on Tues, I have the day off; then Thurs and Fri off) I have created some more art, and just been working overtime, ( no time to prepare for job, and scan ; but I make time to write and draw new things, and lurid concepts. )
Tues nov 23 2:57pm Updated the Exodus ( regarding a project, long underway). I will try to check emails, the next time I have 2 or 3 days off. One day off, I have just enough time to write and plan content. Today I completed instructions for a top actress ( long awaited: since 6 months ago).
Mon Nov 22 – 8:36pm I expect to have things to post tomorrow. It's very exciting, that I now have the funds, to create a professional PC workstation over the course of this year. There is no reason, not to, be able to have traditional cel animations; full color, digital, and traditional colored, detailed images ( With quality anatomy; diversity of aesthetically idealized, physiques, ) and the attention to story, character, ect,.. that basic mainstream content has.😃 Thanks for your interest.
Sat Nov 20 – 8:35 am scanning, preparing to post some images. 8:55 am * 11:06 am updated Exodus
* It's possible I posted these before – I don't recall seeing them in the website archives; and I found this stack beneath a large structure ( a 5 layer cardboard shelf I made),
Fri Nov 19 – 6:41am set up to scan. 6:57 am post recent images to Weekly Nov 2nd ( 2021).
Thurs Nov18 – 8:19pm ( my aorus Pro Ac mobo) – required 'flashing the Bios' to be compatible with my Ryen 7 5700g CPU. [ I will watch for sales, and get an Asus mobo probably, that works out of the box; unless I can get the aorus ( gigabyte mobo) to work. [ took out CMOs battery, and can try again, after shorting the jumper ( I don't expect it to work).
(updated Exodus word) .
Tues Nov 16 – 4:18pm Finally reassembled my PC.
( and set it up ergonomically at desk) – Now I am reading about flashing the Bios.
(my mobo needs a driver update). I set up the animation desk, and now I can reach, sit at, and use the enhanced desk surface areas in the studio; as well as reach the piano. I will try to leave time to sketch tonight; but I am very glad to finally have the main studio set up as envisioned; there is so much more space, both on the floor and desks.
Sun Nov 14 – 8:14pm I updated the voice greeting of this page:
I checked my DA ( comments, notes) – someone recalls the Space Wars book, with the Tarnsman of Gor image and caption. And someone wanted permission to post a picture of Vampirella I had drawn, to their website. I saw a pumpmonger1 comment on an Oct 9 image.
– 6:52pm The exodus site is up, at the new location. I accessed it, and it works as normal: I emailed everyone I am aware of who had access prior to the 'renaming of the domain'.
( If you feel I forgot you, or left you out; feel free to email me, as you know how to, and I can verify – and send you the new URL and password: Thanks!)
-6:50 pm I replied to various emails; informing subscribers of the new Exodus domain name change ( with a link to the site, and the password); regarding a commission request; and a commission I requested. And keeping the founding grass-roots subscribers who stayed on through the pandemic, updated regarding Exodus.
– 6:00pm downloaded a backup of my entire dreamhost account. A suggestion, before 'renaming domain'; ( the agent offered to reinstall the new domain; while they trouble shot a glitch; he said it was fixed, and the domain would be down for a bit ( for the exodus),
– 1:48pm With help of a Dreamhost Live Chat agent, I got the exodus site migrated to a new URL *
( same name, but as a dot com.) Dot com is more expensive than the previous URL, but the annual domain name license renewal is far more expensive over time. So it's worth renaming the domain, to a dot com. This means the Exodus page may be temporarily down, till this process is complete.
[ I wrote an email reply to a founding member subscriber that had contributed brilliant fan fiction; much of the correspondence directly motivated me to try to increase my script writing game, and boundaries of lurid dialogue which I hired actresses to read, in the months since the fan -fiction writer sent me an opus he created, featuring my original characters – it means alot, to see this kind of enthusiasm, and effort, on concepts, and art I have been working on for 7 years ].
Thanks for all your support and encouragement.
I sense, the art quality and products I can create, will get better ( with the upgraded studio, soon becoming operational; and the increased funds I can devote to this; now that I have part time work. )
URL: defined: address of a web page.
( I write this for myself, since; as a process, it prevents confusion, with all the communiques I have been making to others collaborating; if you don't spell everything out, pedantically; then is greater chance for misinterpretation)
– 8:35 am Updated Exodus ( additional image from series below)
– 8:27 am
8:12 am – I had to get supplies for upcoming role in new job.
There are just minor things to adjust in the studio – yesterday I wrote some ideas for a semi-lurid script, I sketched, some physiques, ordered a handful of videos , for lurid pose , sequence reference.
I ordered 64 gb mushkin enhanced 3600hz Ram, and installed Be Quiet: Dark Rock Slim heat sink.
I have a new logitech mx master 3 enroute.
Weds Nov 10 9:21pm – I have a day off Fri Nov 12. I should be able to scan and post art then.
I finally got the large ( 5 ft square paintings, up on the mantle), and stocked up on supplies, for work. I will also, expect to have 3 days off Nov 14, 15, 16; and I can check emails finally. I hope to work on commissions. I appreciate your patience and interest, as I improve the studio, which should pay dividends, in the coming season, with inked/colored visual assets, and audio, combined in mini test games in Ren'py ( with illustrations, like the ones featured here, as sketches; finally, inked, and beginning to develop animations; and painted backgrounds).
Fri Nov 5, – 10:08pm I plan to check emails and respond, after I complete revisions with the one actress I mentioned earlier; and on a day not at my job. Then resume commissions.
I probably, upon completing all the current commissions, will close commissions, and work exclusively on the projects I described, designed, prepared, and mentioned already. Commissions, are nice when I have alot of time to try to do something special, but they are generally, more work, than I get compensated for, and feel like a colossal drain of my time, energy, and distract me from my larger goals ( lingering like a homework assignment, that takes forever to finish, and the teacher always criticizes); we will see. Maybe, after my studio is completely operational, and I've had some time to use everything; and progress in the game project, and get comfortable with, or bored of the job.
– 9:59pm – Updated Exodus ( with additional sketches)
I scanned one image, from the stack of 'Apocrypha', which I found while arranging studio: it was stacked under old paintings from 30 years ago. I don't recall seeing these pieces scanned, or uploaded yet to the website.
[ how convenient – now I have things I can post for another 3 months: but today I got the studio arranged to sketch on my easel, when I return from work, and before. So now, things are mostly back to normal for me.
I am fortunate to have gotten the job; I am really enjoying getting out of the house again; and get to use my physical strength, to make money much faster, and easier than through the PC only. Will be able to fully equip my studio, and make top quality projects this year.
Thurs Nov 4 – 9:48 pm – I cleared off the desk, to move a display case of premium statues, and cleared off the chest of drawers; two 2 x 3ft x 3 ft stacks of large paintings and art from 30 years ago;
which I organized, and stored 94% of them, in mylar. Not much left to arrange. once I move the premium statue display case, and clear the adjacent trophy shelf; I can set up a glass cube full of 6th scale models; and then put two 5 x 5ft paintings on a solid shelf, out of the way. Then I can populate the tables in the studio with architect light box, huion touch screen tablet, PC, AV/Receiver, 5 to 1 speakers, connect the pc, monitor, wifi, security cams, scanner and develop/post art as normal. Have two days to work, then a day to work on studio, two days to work, then two days to work on studio. By then, studio will be complete, and I can draw every day, before, and after work.
In the meantime, I found a stack of drawings ( from the Apocrypha,) which it appears I haven't scanned, or posted. So I will actually be able to post some artwork, maybe tomorrow morning, or evening. Once the studio is setup, I plan to resume commissions requested; and concept art; visual assets for projects.
Sat Oct 30 10:24 am –
My first priority, is to complete some sketches for a commission I started a month ago. And create a fully inked, colored commission for a grass-roots, top supporting Founding Member of the Lurid Max Pre-Code Renaissance ( whose steady and generous patronage, we all have to thank).
Fri Oct 29 – 11:01pm – I renewed the Luridmax.com domain for another year. ( later on, I may upgrade the hosting: for faster uploads, ect.) And created a new domain for the exodus site ( in a couple days, I can see about migrating it).
10:20pm – I have a new job, tomorrow, a couple hours intro. I am almost done setting up studio: ( I have provided for 4 surfaces ( desks; 1) touch screen tablet ( digital color) 2) light box ( animation) 3) inclined desk ( by window: sketch, pencil, layout) 4) study drawings ( and part of large table: for painting). Today I got files out of boxes, onto shelfs; ( freeing floor space).
[ Just need to move 2 large paintings, up on a fireplace mantle, to free the floor space, by the animation desk. And put cards, (already in 9 pocket sheets) into binders ( half way through); and reassemble my pc ( With new CPU/mobo; AMD – aorus pro ac b 550 + Ryzen 7 5700). Yesterday I looked at the upcoming Black Friday ( ect) sales; to watch for 64 GB Mushkin Enhanced Redline 3,600 RAM ( 2 sticks: for now).
The new job is easy (a physical job: just eat, lift, rest, repeat: not as mentally demanding as writing, or computer work), something I like doing; and very close to my studio ( less than 20 mins)- also close to the seaside, where I like to exercise and sketch. The income will make it possible for me to fully develop my projects ( as described previously).
I will have just as much time to work on what I was doing ( it's only part time; for now). I should be able to have the studio ( totally arranged, with pc assembled and) ready to work in, with 1 day on task ( 3 days, maybe: considering getting work related tasks: new clothes, to holster smart phone; weeks worth of nutritious groceries).
I am really pleased -( at having the part time job. I should be able to get a new car in about 6 months; enabling me to visit a relative who has connections with models in a big city ( models, as in young women, posing for my camera; for my art references, for projects, as I have described).
Fri Oct 15 – 6:16pm – Updated the Exodus.
Rather than keep anyone in suspense. ( if the details, are tedious 😀 : Checking back in a week, should be enough time, ✨to get back to predominately image posts). I apologize for the delay: my studio is long over due for reorganizing, to optimize for time, and space.
Ordered seven Cat 8 cables, for my new pc/ studio set up. Which will should be much faster. Tomorrow I can assemble my new PC parts.
Today I installed a chest of drawers
I found more than a handful of things, that I can use, which were of interest.
Once I get the last 2 days worth of moving furniture completed, my sense of when art will be completed, ( both for commissions, and for the website ,..) should become more accurate. Moving heavy things, doesn't take long – but
it involves standing, if not carrying , for over 10 hours; resulting in some unexpected fatigue, in the last hours of the day, I have 2 people waiting for commission progress; Tonight, I should be able to write my ideas, After the studio is functional again: I will be able to get more art done ( with the faster PC), ; and I should be able to post commission progress, more frequently
Thurs Oct 14 – 10:05pm . Moved heavy furniture for over 10 hours today. Just enough time to write some ideas down.
Just trying to make more space; I expect to be able to get better quality work ( ie, inked, colored; and visual assets into game form) done, with the new setup, over the course of a year, it is definitely worth it, to take a week, to get this done.
Tues Oct 12 – 8:58 pm
I planned a work station, within the house, ( arranging furniture in progress), setting up the scanner, and modem/router/switch, my monitor, lamps and easel, and laptop, out of the way, so I can continue arranging things* in the house; and sketch, and upload art regularly, as usual.
*( enabling me to find old master cassette tapes , made from my MT50 4 track, 20 years ago, to use for sound track material). And some 1 K worth of MTG cards; and family photos, to store.
Sun Oct 10 – 9:12 pm sketched directly from Fastner and Larson's original art, for a 19 x 24″ ( along the sequence); have 5 + concept art, physiques, I drew on the 8th. I expect to scan and post some pieces, on the evening of the 11th ( tomorrow). Update word: Weekly 1st Oct Early Access Studio.
Thurs Oct 7 – 8:39pm
My new Pc ( CPU & mobo) arrived yesterday;
Today I drew concept art ( physiques from the location I was at last week): 2 sheets 14 x 11", 1 sheet 11 x 17" ( detailed first draft, background; supporting figure); 14 x 17" and nearly completed a 19 x 24" of the main character in the current vo scripts.
Hopefully, during the next two weeks of October, I can complete some visual assets, commissions; and detail WIP.
After Oct 11*, I should be able to process the remaining voice actress audios; and work on commissions; and make some progress with : visual assets for video game tests.
Tues Oct 5 – I wrote a good deal about my trip; ideas for multiple game designs. I updated the LM3*
*daily social media Campaign; week #4. Scheduled daily posts on Deviant Art, Pixiv, and Subscribe Star Adult. I will also post the complete images at the Weekly 1st Oct Early Access Studio.
[ from the Month Menu: on the Clandestine Menu. ]
Sun Oct 3 – 2:27pm. I should be able to get some drawing done this coming week. The short version: a visiting, younger relative, who I picked up a couple days ago, currently plans to fly back, in about 10 days. Today I finally have a chance, to write*. Details in Word: Weekly 1st Oct Early Access Studio.
* ( about the new places, and interactions, I had, over the past couple days: mostly 1 day, at a location, I hadn't seen in 29 years). I don't really take vacations; to me, drawing, and writing is playing; when there are opportunities to help people around me, by physical actions, or spoken words, I try my best. Since I can draw, (photo or scan) and upload, almost any where
Month of September
Sept 27
– 3:07pm: Finally took care of some business that was lingering ( a job application). Feels good, to start getting tasks done, and reducing the stress. I took the time to make job experience descriptions that should impress; and have communicated positively with the person in charge of hiring. I am planning for part time. The income, will enable me to complete the projects I described.
Sept 26 – 10:32pm prepared ( scheduled, posts for Subscribe star, through Oct 4) . Noticed someone joined the Lurid Max Subscribe Star, at Champions Tier?: Thank you so much!?✨ That made my day.
– 3:33pm I posted to social media galleries ( and scheduled DA through Oct 4; and Pixiv through Oct 3.
I should be able to work on commissions this week; ( My schedule is mostly cleared ).
( on Premium Trial membership, its $5 per month, after: )
Sept 25 – 7:41 pm Updated Exodus and new site ( with unique images).
5:51pm ( I might have connected the updated gore section before. )
6:24pm : Almost got the campaign automated –
( prepared posts through Oct 9: cropped chosen images). Hopefully can set up another week's worth tonight, then schedule the posts here, at DA, and Pixiv. I've noticed, DA takes up alot of time ( the way it's designed: every 'fave', is a new notification.
I go through and identify the users – about page, to scan for viewers that are suspicious (ie,. just looking for the one individual; who 'watches'; pages with brand new accounts, that have little to zero content ( only watching my page, no fave's. He's been around for at least 8 years, I think. His primary account, to my knowlegde, is wwarea. It's a minor hassle, now; with the new eclipse option to remove comments page. ) and I often discover new art work that is inspiring, then look through, and download, anything I might benefit from studying ( later). Once It's automated, I can get up in the morning, and create. Resuming the progress on commissions, and hopefully creating alot of great artwork next week.
[ the only two things I have to do; reapply ( a tedious process); and apply for a job; that I will likely get, if it hasn't been filled yet; then show up for an interview. With the posts prepared 2 week s in advance, I can spend my days as normal; sketching, and preparing to ink and color ect,..)
3:15 – 5:48 pm Prepared images through Oct 9 ( cropped, ; connected). Going to see how much more I can prepare, before dinner. Then, either sketch, or finish storing vintage, to clear the inking table.
– 3:14 pm General Update: I mowed for over an hour yesterday. Looked up current Pc parts ( planned a few builds: to maximize my time: for the audio processing ( vo, splicing, and soundtracks/ mixing).
– 2:52 pm Plan to post later tonight. Working on connecting images, and preparing a week in advance of social media posts: so I can draw first thing in the morning, like I normally do. Got great supplies on the way.
Sept 23, – 5:41pm – Connected a 19 x 24″ Template. – Eric Stanton Style. Sept 1st Weekly Early Access Studio
Worked on two commissions ( yesterday, and day before).
Sept 20 – 10:47 am Connected 19 x 24 template – Sept 1st Weekly Early Access Studio
To make some cropped previews, and get about 1 week prepared ahead, so I can draw most of the day.
Sept 19 – , Tatsuo ( DC Outsiders) Sept 1st Weekly Early Access Studio
Sept 18 – Updated Color Variations.
– 3:31 pm – Planning to detail these when I have time. When I scanned this one, to post, I apparently was saving time to draw, (since was going to scan images like these again, once I detailed them better). – But this is the connected parts, which I made the LM3 social media campaign (smc) posts today.
Hoping to get 10 sets of 10 images, prepared ( picking out now): and schedule posts ( Pixiv, DA, Subscribe star.) So I can work on commissions. The fastest way to run the LM3 smc, is to have a document with tags, captions, prepared; a web browser with pages open to pixiv, dfn, DL, mastodon, DA; exodus, LM, LM3, subscribe star.
Sept 17 – 5:47 am . Digitally connected lines of a scan, to basic color , with eyedropper, and bucket fill, to update the DL avatar. Posted the base image, and some variations of color schemes. ( wanted to post the daily campaign content, before I spent time preparing to work on a CSP colored ( raster layer version). Color adds so much, in my opinion. [ I love the result]
Sept 16 – 9:58pm – ✨?The Lurid Max Early Access Phase 1: is officially Closed. ✨? The members who have been trusted up this point, subscribers between Sept 28 2018 – Sept 15 2021, I have all your emails and I am compiling them, on a list which I will safely store, off site, on a flash drive. You have made inclusion in the First Phase, as Founding Members. And are granted lifetime Clandestine membership, to this blog; it's links, with the current password**. With Legacy privileges, which new joining members will never have.
??✨When I have new work that I think you'll appreciate I can contact you directly, to join new DA pages, ect,.. where there is no connection to LuridMax * and I can leave the comments open, and enjoy the normal social media art/ viewer feedback, open sharing experience.
*( which the malicious troll, pedophile, online-homosexual, child predator wwarea stalks my page, to harass and sabotage my progress on DA; in ways, only a poster of content can really understand. )
** If you don't yet have a password to this site's current Clandestine Early Access Studio posts ( which are in hi res), with info about the images, and anecdotes from the creator, and images not posted here on the Blog Feed, simply send me an email, where you received your last password from. I will send you a pay pal invoice. When you pay the $30, I will give you the password.
9:44 pm – Move Subscribe Star member entrance , to ( Join page on main menu: – The Susbcribestar button, leads to that page.
I moved the Clandestine entrance to ( about us) right below the "Who Are We"
If you don't have the page bookmarked ( ie, the coming soon page, : and are used to navigating from the main page Luridmax.com menu> clandestine.
Here is the new link to the Clandestine entrance:
I don't want to new members to ask about the Clandestine. So the current outer menu will show: About ; Season 3 ; Join
For longtime clandestine members – we are building the Exodus site, and the new 3rd site. Anyone that has access to this feed, that wants to be apart of the Exodus, or the 3rd site; simply join on subscribe star, – make a $30 payment to paypal ( and indicate: " I would like access to the 'Exodus' Site. )
8:47pm – 9:28pm ; Social Media Campaign Lurid Max Season 3: Daily Report Log
9:30pm I plan to contact the currently paying subscribers ( on Subscribe Star Adult: who are trusted, and been subscriber at Champion level), Around Sun or Mon, when I share the commission update with one, and the password to the LM3 links ( above this " Month of,.." block, and below the "Monthly Archive of ' Coming Soon.' ) [ ie,.. LuridMaxSeason3 main Menu; Serpyntera ; Cygni Gremian; LM3 Live Feed. ( there isn't any artwork you haven't seen there, yet; but alot of lore, and a better website design ( in my opinion, that my first efforts here).
– 12:17pm [ That's it, I am done with social media for the day. Going to a job interview, and then sketching, exercising; photographing at the beach. ] Tomorrow, I can set up more posts in advance; and start commissions.
Will be cool, to see what the notification and activity is like, 1 month into this Season 3 CAMPAIGN.
*The reason I went to the effort, to create new websites, accounts ect. When I spend hours posting to DA, I no longer, have an instant Troll spamming my notifications with imbecilic, comments/notes. My scanning of all notifications, ( for 'watch' only accounts; created 'after' Nov 25 2019; seems to have worked. ? Ah, it feels good. )
11:04 am Posted preview ( DFN). 11:13am (pixiv)11:25 am (DL)
10:35am, updated 1 image; Sept 1st Weekly Early Access Studio Updated LM 3 Live feed.**
Sept 15 – 10:38pm Updated ( DL*) : "Pre Code Horror Covers and Comics " thread.
*dolcettish
– 10:12 pm set up DA Tiers ( $5, $10, $20 $30, $100)
– 7:45 pm . Posted to Deviant Art; set up 'Premium Gallery' (unlocked for $25: for the select images of the Apocrypha Archive); Subscription Tiers ( $10 for monthly Early Access; $30 for Website Access). ;
Signed up again, for DFN ; posted an image; ( 3 likes, 2 friends).
5:44pm – went through all DA notifications to date. Blocked any accounts that watched, but had no favorites ( relevant).
2:51pm – Updated my Pixiv Lurid Max page: (with a cropped section of the below image).
– 8:49 am Going to Post, cropped sections of the following image- to Da; Pixiv; and Subscribe star ( as a public feed: to attract viewers). Updated Exodus. Updated LM 3 Live feed.** [ Additional pages on LM3: Cygni Gremian main menu; Commission Gallery: ] LM3 Main Menu.
( which I connected, for a commission gallery*) ** Password will be mailed to current subscribers.
which currently subscribed Subscribe star members, will have access to , once I get the sites up. For more impact – rather than give a link to a site that is just links; even though, that part takes the most thought, and longer time to set up than making the art.
Sept 12 – 7:49 pm – Added 1 image. Introducing another Apocrypha comic, specifically for Lurid Max. Sept 1st Weekly Early Access Studio
Sept 11 – 10:53am – Added 1 image to Sept 1st Weekly Early Access Studio
In honor of the actual first responders: The first thing I think of when I see the platitude: Never forget; " and the word " patriotism' flung around, like an aggressive gang sign ( by people who are generally not trying to help anyone, but themselves, and or start fights) it this video, for some reason. Not trying to make this political, first time I saw this, I was surprised, not knowing Jon Stewart for anything other than his TV appearances; and frankly, didn't know how the first responders were treated: The point he makes, is : it took 5 secs for them respond, and it's been 18 years, and they are still fighting for funds to care for the various respiratory diseases they got from the 'pile'. Remarkably articulate and passionate speech; followed by standing ovation. I liked, that his abilities for speech, seemed to result in the first responders getting the funding they sought. Regardless, of the opinion about Jon Stewart, it was an educational video, for me at the time. (Link to You tube video of Jon Stewart Addressing Congress for 9-11 First Responders )
Sept 10 – 7:53 pm – Added 1 image to Sept 1st Weekly Early Access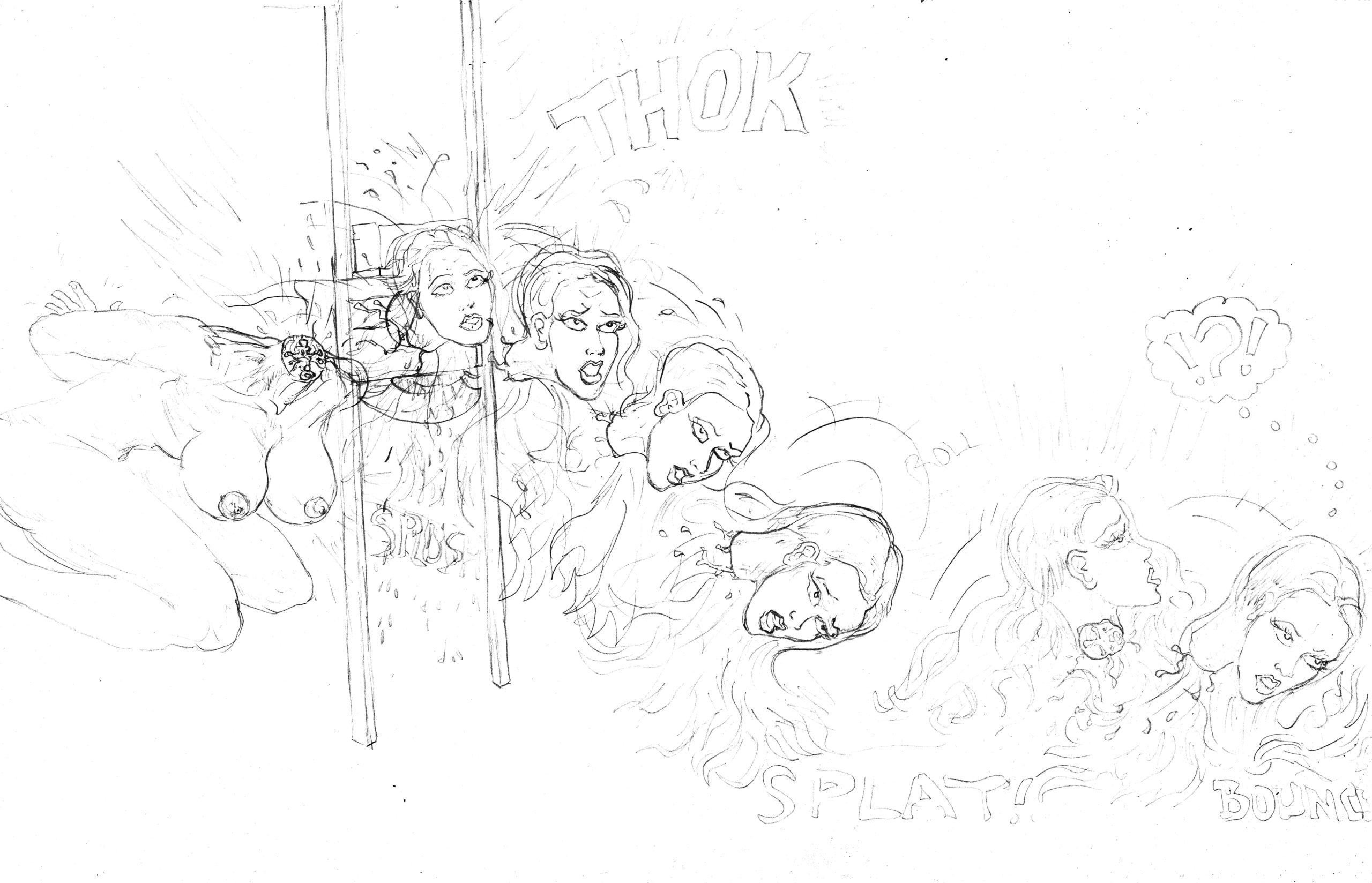 Sept 9 – 9:10pm – Added 1 image to Sept 1st Weekly Early Access Studio .
Sept 2 – 12:22pm updated Word, ( in Sept 1st Weekly,..) info about Lurid Max Season 3, access to this feed, only for the current grass-roots subscribers. ( I don't plan to change the password – but new members will go to another menu, with Apocrypha comics I am working on. And without the detailed info, or voice overs, videos,, scripts, ect. ) Clandestine member ship Recruitment will become a closed group, I can continue to update for current grassroots members.
– 12:11 pm posted this photo to Sept 1st Weekly Early Access Studio – taken of a 19 x 24 work in progress( WIP). For a new series I storyboarded for a 'level', event outcome, to a functional video game,*.
*I am working on ( involving full audio; and eventually, traditional cel animation).
– 11:49 am Created a website system, on the luridmax.com site, for new members in Season 3. Simplified navigation; archives of Apocrypha comics, ( as Back Issues), with latest posts widget, and all new comics, in a series, on the main page ( as well as simple commissions prices). After I make 12 or so , fully inked and colored 'preview' images, and several others in the sequence; I can post 1 preview per week on forums, for up to 3 months, ( like previous campaign runs, I did, for Luridmax.com, before the pandemic). I plan to still update this feed, for grass- roots supporters, who still have access; as appreciation,
Updated the Word of new Sept 1st Weekly Early Access Studio ( regarding several more images, posted ).
Moved Aug Coming Soong Blog Feed to Monthly Archive of 'Coming Soon '.
Prospectus: March – April
I.Commission Requests; II. Independent Artist; III. Reith then F & L; IV. Studio/ Email Schedule; V. Easel vs. Keyboard ( Pause/Resume); VI. RoadTrip Mar 20 2021. VII. Cel animations.
About "Coming Soon " Blog-Feed:
I add items with links, and date. When it gets time consuming to scroll to the bottom of the page to 'Edit', I move Formerly "posted" Updates to:
Thanks for Your Interest and Kind Patronage!
Warmest Regards!
Stay Safe!
LuridMax Season3 main Menu; Serpyntera; Cygni Gremian; LM3 Live Feed.