Sun May 31 – ( 11:20pm – 12:54 am) Added 1 scan, 3 photos, to Weekly Early Access June 1 ( 11 x 17″; Vintage photos; words); 2 images Atelier June 1st; 4 images Gallery June 1st, 26 images Vintage June 1st. Words Weekly June 1st. Added 36 images total.
Sat May 30 – ( 10:00pm – Added 3 scans Weekly Early Access May 4th ( 11 x 17 " );
Weds May 27 – ( – 10:50pm – 11:37pm ) Added 4 Scans and 8 24 MP Photos(Vintage Covers/ Interiors) to Weekly Early Access May 4th ; Developed Html Game Congo Jongo*; 8 Scans 5 Photos 24 MP Vintage Crime suspenstories #22; Clandestine Reproductions Menu; Words May 4th **. 25 Total images.
*( Developed Link pages have black background: additional pages; actions*; placeholders for audio, and illustrations)
** ( Russ Cochran Art print, Scan, and 24 MP photos), plus images (vintage; GGA)
Mon May 25 – ( 10pm- 10:45pm) Added 5 images to the Weekly 4th May Early Access Studio.
Sun May 24 – ( 8pm – 12:41 am) Added: Soundtracks:
Cuj Wikkoth, Wikkoth Priests, Skerrah ( Leading the DeathsHook) Jindra (on the hunt), Sjera ( Relentless Fury Unleashed), Congo Jongo (Main title Theme, Start, Intro page/ Ceremony of Defiler/Umbreed), Jongo, Caverns of Mnemoth (Whistling Cave), Crooked Sailor ( Denouement: Sojourner's join), Ravilyon Valley Homecoming Parade, Talshanna Festival, Guula's Tendrils ( emerge from the Pit of Sheogarto), Antechamber ( Rise of the Corrupt Livyatan),
(11:55am -12:14pm) Added: Atelier/Gallery ( Weekly 4th May ) ,
( 10:40am – 11:55am) Added: Weekly May 4 ( Anecdotes- continued from last week),
Sat May 23 – (10:02pm – 10:54pm) Added: Word May 3rd update.
Tues May 19 – ( 10 pm – ) -25 total images added, Added: 3rd Weekly May. Added: 15 images – 6 Comp, 4 scans, 5 (24MP ) Photos, Early Access Studio -* 10 images to Vintage,
* I plan to post more on Thurs.
Sun May 17 – (1:35pm – 10:25pm)– Added- Congo Jongo, Start , Start-Intro; Main Menu, 1st Draft script/story. To Html game template. *
once I input the outline of the ten main pages- it will organize the main visuals, audio. Working from flowchart, to art script audio, and back and forth. Should produce a good presentation; that I can later prepare, and improve, if need be, for the Renpy version. To get this accomplished ( I will try not to type the Word, as much, and instead, work directly on the links to the flowchart, and story: adding documents to the Draft Story Script Menu.) I imagine this could be set up in a week to 3 weeks – and finally have a structure for a first game- and definitive 1st graphic novel; if I pause the traditional weekly packs. At any point that I complete this, I can resume weekly packs. I have the content, but not the time to do all of it simultaneously.
Sat May 16 – (7:20-10:30pm) Updated Word May 3rd. Rare Commission Opportunity mentioned. Topics: Vintage, Auctions, Commission for Crime Suspenstories #22, Covid -19 Federal Benefits, Eta new studio work– Thanks for your interest!
Thurs May 14 ( 11:05 pm – 12:20am) : Added 7 new tracks ( from a day long soundtrack recording session – recorded May 12) 1. Cart Ride to Gelfang 2. Runes from Mnemoth's Grimoire 3. Onslaught, Ambush, Massacre 4.Razing of Zendora – resilience of Nyralovea's kin 5. Entourage of the Drinna Warqueen's 6. Lament of the Bereft 7. Entry of Xth'raddon
Tues May 12 ( 9:20pm – ) : Added: 17 Images to Weekly May 2nd Early Access Studio. Narrative idea for html Game: Xth'raddon*
*Subject to change
Mon May 11 : Added: Game html 'flowchart' Menu ( reachable from Site Main menu and Clandestine Menu). Typed and posted Project Mission statement ( outline, description) to About page.
11:26pm – Added: Video Game Animations ( Skyrim Special Edition) –
10:34pm – Added: 19 images Atelier/Gallery May 2nd 2020 ( 3 Apocrypha, 2 Studies, 1 Fan -art; 8 Collage References, 3 comp, 2 Original.
2:34pm – Added: 8 Vintage Scans 1 Pre Code Horroresque; 1 Golden Age ( GGA), 6 . 6 Auction 24MP photos ( Eerie Magazine covers)
1:30pm ( Updated – Word press 5.4.1 – ) Mostly tools for page building convenience.*It said the website will be in maintenance mode – while updating Word press; it updated in less than 5 minutes; it should work as normal ( meanwhile I will prepare content).
Sun May 10 – Added: Interior photos. Words: Updates ( site backup, Word Press update).
Sat May 9 ( 11:27am- 10:27pm ) .
Set up menu, links – page templates; through May 2021. Uploaded Video movie clips, through Aug 4th.) . I plan to set up the rest, and add vintage photos and Scans tomorrow ( and post an update on subscribe star).
Tues May 5 ( 8pm – 11:33 pm) Added: May 1 Weekly Pack: 21 images: 15 original studio pieces in progress. 6 vintage comicbooks ( 5 scarce, high value Pre-Code Horror): "Early Access* Studio" Recent Auction Wins ( Scare Pre Code Horror/ Golden age) – Updates: Word,
*( Realtime feed, these were all drawn today, and yesterday – including some recent auction wins: scarce, vintage pre-code horror.)
Fri – May 1 ( 8:05 pm – ) Added: 18 images April 4th. Weekly (5 Apocrypha) Vintage ( Pre-Code:1, Atelier 6 images( Comp: 4; Pad: 1; Original: 1), Gallery 6 images ( 1: fan -art ( Fantom Seducer 2 still study) 3: Apocrypha, 1 Original sequence 1: Studio ( detailed study Skyrim char), – Updated April 4th Words.
Tues April 28 – ( 9:55 pm – 10:56pm ) – Updates: April 3rd Weekly- Early Access Studio (added 16 images)
Sun April 26 – (6:41pm – 11:09pm ) – Updates: Atelier – Composition Book ( 16 page sequence ); Auction Photos ( 10 images added – 24 MP ) Eerie Magazine ( painted Lurid horror covers) ; Interior Photos: added 4 pages, 3 close ups ( starting from beginning of) Terror Tales May 1969
Sat April 25 – ( 10:45pm – 12:35am ) – Updated the April 3rd Word.
Tues April 21 ( 8:16pm – 11:30pm) – Posted Gallery April 2 – I have more images planned for another day*.
*[ I got alot of quality studies done in the studio, by going to bed early].
Sat April 18 ( 7:09pm) – Audio clips – Excerpts, April 2,3,6 *
*( Riffs/Melodies: Biresan vessel through Bnthosforamen, Dance of the Dullahan, Elegy (ptI. Unexpected, Pt II. Rift, Pt. III Bereft) , Crepusculoids, Forest Cabin of the Estranged Witch, Aravek early take 1 track)
Fri April 17 (10:44pm) – I scanned ( after photographing interior: For 2 Pre-Code horror comics. And Two Eerie Magazines, 50 pages each. )Uploaded hi-res Scan Terror Tales May 1969 *. Recorded (a faster paced soundtrack than the previous 3)– a Battle march; part of a three piece: Midnight of the Crepusculoids, Dance of the Dullahans and March of the Umbreed . Part way through a reproduction study of a key supporting cast. **
** ( sounds like the keyboard tracks are improving – hopefully, by the time the game is ready, I might have decent soundtracks, that enhance the ambiance of the art/ visual novel scenes; and lyrics , for voice actresses to sing.)
* [ And several other hard to come by, pre-code horror: good references inside the book; panels. A tribute to Rulah! – as Kolah. The over the top gore, reminds me of Garbage Pail kids art – from the 80's. I really like the look of the Eerie magazine art, covers, and pages. ]
Tues April 14, 2020 -(6:56 pm – 9:21pm) All the latest drawings straight from my Studio posted in Week 1 April Gallery *
This will gain time, for better artwork – embellishing. The only way possible to get a comic and a video game developed, at the pace I can make it ( is to reduce the redundant 'embellishing': ie, website, thumbnails, connecting large scans, editing text, and images that are WIP- the 6 – 20 hours ( 2 days of studio time minimum) I have devoted to making the Weekly posts, embellished, – feels like facebook – spending alot of time, arranging a scrapbook, that becomes a task in and of itself. But, to discerning viewers, that isn't the goal. A completed inked, colored comic or painting of quality, can be simply posted to one page. And that time spent making web design, can go to painting, drawing, or making a video game, animation ect.
(1:47pm- 3:23pm)
Plan to add to a section each day 6 days a week* (approx). (ie: Day 1: Atelier, Day 2: Apocrypha. Day 3: Gallery Day 4: Composition, Day 5: Vintage(misc/ alternately 6th scale, video game animations, videos, soundtracks) Day 6: Composition (rough layouts, animation frames)
I get more progress in the studio, when I work on art daily (for most of the day) *
New Schedule, to get New Comic completed! ( see Word, April 1)
Tues April 7, 2020 ( 10:36pm) – Added a 3rd soundtrack, April 1 Word
Sat April 4, 2020 ( 4:19pm ) – Added:
Weekly: 5 image; Atelier (11 images); Gallery 6 images; Reward (19 x 24″) 1 image; Vintage (12 images) Added 7 Frames to Animations Studio
Thurs April 2, 2020 ( 3:42 pm) – Added 5 images to Mar 3rd Weekly: Apocrypha. Updated Words – links ( Mar 3rd).
Weds April 1, 2020 (8:04 pm – 2:04am ) Coming Soon April ( Photos of 19 x 24″ in progress.) Diorama Workshop, 6th Scale Journal.
Auction photos Added 4 Eerie Magazine photos. 1 Comicbook ( Bobby Bensons B-Bar-B Rider's #14 Cover Photo)
Tues Mar 31 – (11:26 pm) – Added 3 images (Gallery Mar 3rd), Added 6 images (composition)( Atelier Mar 3rd).
Mon Mar 30 2020 – ( 10:46pm) I put in 2 full days on 6th scale ( Poseable) photography; added an ' About (6th Scale Models)' page . ( I have more drawings to post, just need to edit – likely, in a few days, I will get March 3 and 4 drawings up – and some interesting correspondence with the film producer regarding scripts*) and covid-19 anecdotes. Recorded some audio soundtrack themes from keyboard.
*He's not actually taking more scripts for the April 8th shoot, but he is definitely interested in having scripts, for upcoming shoots ( after covid-19 crisis has abated)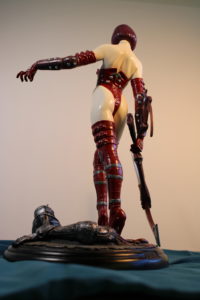 Sat Mar 28 ( 10:34 pm) – 1st Photoshoot (6th Scale: "Guillotinna" – Fewture: porcelain).
Thurs Mar 26 (10:55pm) – Added Vintage 3rd Mar (including a photo from new camera, of "Fantastic Adventures" (Medusa was a Lady) , cover, that recently arrived ( and unboxed today). And Kristy Swanson (Playboy cover) – potential reference for "Rylanda". Wrote rough of 2nd script for submitting to film producer*.
* (hopefully, they won't close the photoshoot script submissions tomorrow – so I get a chance to make it into a final draft and submit it).
Weds Mar 25 ( 7:14 pm) – Updated 3rd Mar Word, ( and wrote some discourse for upcoming)
Mon Mar 23 ( 11:43pm) – I added recent updates to 3rd Mar Weekly Word. Including the recently submitted script to a film producer. The 14 page first draft, and 6 page revised, simplified submitted script.
Sat Mar 21 ( 6:16pm) – Added some Audio files: from 1st set of sound effects recording session. from 2nd set of soundtrack versions ( 2 additional instruments, Drum variations)
Fri March 20 ( 11:55pm) – Mar 2 Weekly Pack ( 36 total images). Added, 5 comp to Atelier, 1 original ( 11 x 17″); 5 to Weekly ( Apocrypha); 1 (Adult nude ) to vintage.
Weds March 18 (11:38 am ) – – Photos of 11 pages of Chilling Tales of Horror – added to Mar 2 Weekly: Vintage ( some pictures are slightly unfocused- due to exposure settings, ) – Uploaded 10 animation frames to Animation Studio. Word ( Mar 2 Weekly ) updates. (rough storyboard freehand comp: goal is to revisit the sequence, when I have some character designs inked/colored, and then make a sequence with them – adding frames; improving the drawings/ coloring*) * to save typing, I will refer to inking, redrawing, coloring as 'embellish'
Update March 16 (1:27pm) 2:38pm – Edited, connected, posted 7 images to Gallery ( March 2 weekly 2020) 1 Fan art ( Lady Death Proportion study, facial expression, reimagined application). 2 original (11 x 17″ )- Character design Biresan Costume. Zaydimar Concept ( arena champion costume: weapons). 3 images to Apocrypha. 1 image to Atelier. 1 Study ( Steam , nude illustration study)
1:27pm – Set up the Soundtrack, About, ( Privacy Policy), Sound Effects pages. Yamaha PSR 510, Keyboard background recording 1, Keyboard background recording 2, Sound effect recording 1,
Update March 12 ( 11:07 pm) Mar 12 – Added 10 more frames to Animation Studio. Mar 10 – I uploaded Images to Mar 1 Weekly pack. Apocrypha: 5. Atelier: 10 Gallery 8 Reward ( 19 x 24″ full scan WIP )

Update Mar 5 2020 ( 11:20pm) Posted Thermidor II Audio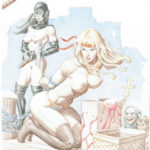 Exciting Correspondence Legendary Art Masters ( Steve Fastner and Rich Larson) –
Excerpts from 1st email exchange (regarding a follow up, to " Kiss of the Ax" / " Sexecutioner. "
Updated Website Feb 3rd post
38 Total Images: Bonus: 1 video game animation, 1 video clip, 11 video screenshots, 9 game screenshots, 6 original audio segments ( voice acted by actress 2: from my original script) [ 28 Bonus items]
Thanks for your interest and kind patronage.
Voice Actress Nine Delivered Audio for S'kerrah's Subterfuge/ Sleight of Heel. A risque, NSFW actress worth writing more scripts for. *
Context Script: (14 Page) *bordering on loli, but taking on drama, with expressive intensity and range. Vocal directions ( 4 page)
Added a Thermidor page. Written Script 2 ( ETA Feb 27 2020) All current Zaydimar: The Executioner: Audio (Scripts)
Added Eric Stanton to Legendary Art Masters
Fastner and Larson's Little Black Book Volume I: Original " Kiss of the Ax"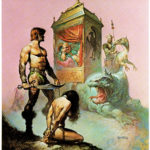 Also, scanned Boris pieces from "The Fantastic Art of Boris Vallejo" ( hardcover) –
I scanned some recent studio work*, created over the last week: adding it to Feb 2, and Feb 3 sections.
* ( to continue: it's 11:50 pm – I'll can add more tomorrow.)
A very special vocal artist, (Actress 8) * delivered a 200 word gig: 75 words of Zaydimar intro monologue, 125 word Scheherazade's Paradigm 1st draft loglines.
* I have roughly layed out a couple gigs worth of dramatic dialogue for the most Lurid Pre-Code horror aspects of both Zaydimar's origin – and an extended promo for Actress 8.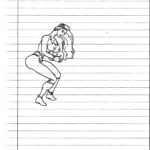 Added 10* frames of a rough animation– to Animation Studio:
Friday Feb 21 , 2020 – Updates ( see above)
posted Script
I ordered a 300 word Gig ( 2nd gig from the 2nd Actress) ETA Feb 10 8:28pm
I received the 200 word script: From Voice Actress 6
And the 50 word Script: From Voice Actress 5
2 Readings of Zaydimar Script 1
I contacted a voice actress ( NSFW) about a 200 word script. ( expected response time 4 hours; later today)
And ordered a 50 word script from a top rated voice actress. (ETA Feb 5 2:28pm)
And preparing another for an actress that is expected back in office later today. ( for 300 words) [ Tues Feb 4 2020, 2:47pm ]
from 3rd Actress (1,000 word Gig *)
* In process of editing ** [ trimming empty space ] in Audacity. Posted 1st section***: 12:39 pm Jan 27 2020 *** And entire Dialogue.
1,000 Word Script Narrative: Historical Fiction: French Revolution
300 Word gig delivered: complete audio file
Ordered the 300 word gig ( mentioned below) : ETA* Jan, 11, 2020 7:21 pm
*( of audio file delivered to me by actress )
Completed first voice-over actress script:
12/18/2019 12:19am a 70 word gig, I ordered from an active actress ( Clandestine members, click hear to see entire 1st script.)
12/15/2019 12:21am
a 300 word gig* ( of dialogue, 10 pages, over 2000 words of vocal direction). [ posted to upcoming Dec 2nd Weekly Pack; soon to be released! ] –
* I attached it to the actresses mailbox, she is out of office till Dec 30,2019. [A college aged young woman, engaged in family activities through the holidays. Very talented, stood out among the rest, and has NSFW demos, and remarkable acting range. ]
Dec 2019
Pre-Ordered : Arhian City of Horrors ( 6th scale model) – ( for application, to using as model, and posing for original characters) *
*To take photos, for general poses, and Lurid Pre-Code Horror poses
Process: Cover Study (photos):
Nov 2019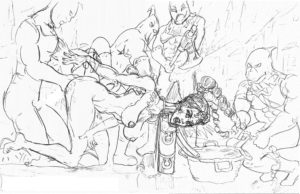 12/13/2019 Posted update: *some scans I made today, and level corrected ( darken lines digitally) – that haven't been connected ( to other pieces) for first look
Country Road Trip:
(to be transcribed and posted here; later)
First Look (photos) of new WIP (works in progress) from a Country Road Trip: featuring ' new art' from live observation of Southern Country girls, backgrounds, and new lurid Pre-Code horror illustrations and sequences: on 11 x 17″, and 14 x 17 " Bristol. *
*with koh i noor HB, 3B and Rotring Tikky .5 mechanical pencil.
Posted: Fri Nov 29, 2019 6:14pm
I have recieved Zoot #7, the origin and first appearance of Rulah ( a classic golden age Good Girl Art; Jungle Heroine. *
*It has been delivered to my main studio – when I return from my month-long Road trip: I plan to scan/photo Zoot #7.
Posted: Weds Oct 23 2019
I have contacted a voice actress: transcript of the 1st communique
Oct 2019
Posted: Mon Oct 21, 2019 ( 5:17pm –
*Posted:Thurs Oct 17, 2019
*(1st story is 10 pages – will continue) [ Hi res; full 11 x 17″ splash size; individual pages; close ups, rotated more level with 3-d visual editor]